Blackjack
Page updated on 10.11.2020
Introduction to Blackjack
The game of blackjack is part of the same group of Twenty-One banking games. Other notable members include Pontoon (a British game) and Vingt-et-Un (French for 21).
While the exact origin of the game is not known with certainty, it is likely of Spanish ancestry. France recorded the first game in 1768, and Great Britain in the 1770s and 1780s as Vingt-Un. In the early 1800s, Twenty-One (Vingt-Un) appeared in the United States. It would evolve into the American variant blackjack at the turn of the 20th century.
From physical table games at land-based casinos, the internet allowed the game to move into the virtual world of the online blackjack casino. From a desktop, Android/iOS tablet or smartphone, players can access the game 24 hours a day at their convenience from their instant play casino. You can usually play free blackjack until you're comfortable playing blackjack for real money.
Players enjoy the game because it combines strategy with chance and it's pretty easy to learn the basics. Unlike some other games, using a blackjack strategy can cut the house edge to just 0.2%.
Best Online Casinos with Blackjack
On this page, we've presented players with a list of blackjack online casinos that pay, along with a corresponding casino review for each. Every casino is licensed and regulated, making them more safe and trustworthy. Of course, aside from blackjack variants, you will also find other online and live casino games. Some game types, such as slots have progressive jackpots.
In each review, you'll find information on accepted currencies, casino payment methods, casino rewards VIP, bonuses and more. We market an excellent selection of established as well as new online casinos.
| | | | |
| --- | --- | --- | --- |
| Casino | Rating | Highlights | Links |
9/10
♣ huge live casino game selection
♣ interesting casino design
♣ fast payment processing
♣ Games on Desktop: 1300 | Mobile: 800
♣ Casino, Live Casino
Visit
Review
9/10
♣ Pay N Play Casino for Finland
♣ payments are processed fast
♣ low bonus wagering conditions
♣ Games on Desktop: 1300 | Mobile: 800
♣ Casino, Live Casino
Visit
Review
9.2/10
♣ many promotions for casino, sports and live casino
♣ huge game selection from many developers
♣ Games on Desktop: 1700 | Mobile: 1200
♣ Casino, Live Casino, Sportsbook
Visit
Review
8.8/10
♣ optimised for mobile play
♣ superb game selection
♣ Games on Desktop: 2300 | Mobile: 2100
♣ Casino, Live Casino, Sportsbook
Visit
Review
8.8/10
♣ Virtual Reality Casino
♣ huge game selection
♣ Games on Desktop: 3900 | Mobile: 3600
♣ Casino, Live Casino
Visit
Review
8.4/10
♣ fair bonus wagering requirements
♣ fast payment processing
♣ Games on Desktop: 4900 | Mobile: 3800
♣ Casino, Live Casino, Sportsbook
Visit
Review
↷ Bets in the Game of Blackjack
↷ How to Play Standard Blackjack
↷ Blackjack Options
↷ Typical Blackjack Payouts
↷ Blackjack Strategy using Probability-Based Outcomes
↷ Popular Blackjack Versions
↷ FAQ
Bets in the Game of Blackjack
Many developers have come up with visually stunning versions of the game, recreating a blackjack table, complemented by classy music and a professional croupier's voice.
After launching a game, you're presented with a blackjack table. Some versions of blackjack allow you to play more than one hand simultaneously, but the basic rules remain the same.
To make a bet, you must choose from different values of blackjack chips by clicking on them. A possible set of values could be 1, 5, 10, 50, 100 and 500 in euros, dollars, sterling or other currency. If you can play multiple hands, then you can click on the section of the table where you want to place your bet.
When done this, you start the game by instructing the dealer to commence dealing. Most games allow you to remove/clear bets from the table if you want to change your bet(s). The same is true of a rebet option found in some versions of the game which allow you to repeat your last bet.
How to Play Standard Blackjack
The game begins with the blackjack dealer dealing out two cards to the player and one to himself/herself. After looking at the cards, the player must decide whether to ask for another card (called a hit) or stay with the hand dealt (called stand). A player can hit as many times as they choose provided that their total hand does not exceed 21.
Each card from 2 to 10 has a value equivalent to the number on the card. Any face card, i.e. K, Q or J, has a value of 10. Finally, the Ace card can have a value of either 1 or 11 depending on the hand you're holding.
The objective of the game is to beat the dealer, and this is accomplished by one of three ways.
Your hand total (sum of all cards) must be higher than the dealer's hand without going over 21.
Your first two cards sum to 21(called a blackjack) and the dealer's hand is less than 21.
The dealer's hand total goes over 21 (called a bust).
The croupier will not reveal his/her hand until the player has either decided to stand or gone bust.
In some blackjack rules, the dealer must hit if his/her hand value does not total at least 17. This may or may not include a soft 17 (total of 17 that includes an Ace with a value of 11). Since the player goes first, it gives the dealer an edge. The reason is that the player may go bust before the dealer ever gets to act. When done, the player and dealer compare hands to decide who won.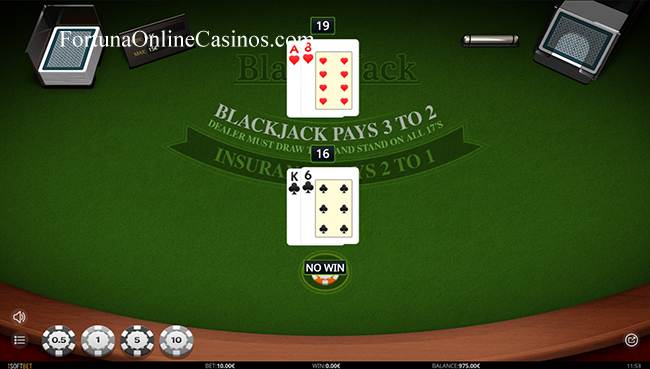 Blackjack Options
Depending on your version of blackjack, you may have options at your disposal. You must decide when to use them.
Split: If you're holding two cards with identical values, then you may be permitted to split them at the cost of your initial bet. Effectively, this creates two different hands. When you've split your cards, remember that you cannot form a blackjack afterwards, but you can form a regular 21.
Double Down: This gives you the option of doubling your original bet with an opportunity to collect a card.
Insurance Bet: When the dealer's face-up card is an ace, there's a danger that he or she may have a blackjack (21). You have the option of taking out insurance as a side bet to protect yourself against this scenario. It pays 2:1 if you're right, but if you're wrong, you lose the side bet. While some players may disagree, the reality is that you best avoid it.
Even Money: When you're holding a blackjack and the dealer's first card is an Ace, there is the chance that the second card may reveal a blackjack also. If your instinct is telling you that this is the case, you can choose to take even money, which pays 1:1. Of course, if you turn out to be wrong, then you've lost out on a payout opportunity of 3:2.
Typical Blackjack Payouts
For most games of blackjack, the payouts follow a predictable table payout as follows.
Outcome        Payout
Blackjack        3:2
Win                1:1
Even Money   1:1
Insurance       2:1
Push               Return of Bet           
Blackjack Strategy using Probability-Based Outcomes
Blackjack is a game of mathematical probability, where you take action based on your two cards and the dealer's face-up card to better your odds. Refining your strategy can reduce the house edge to as low as 0.2%, depending on the house rules. The table below is an example of this.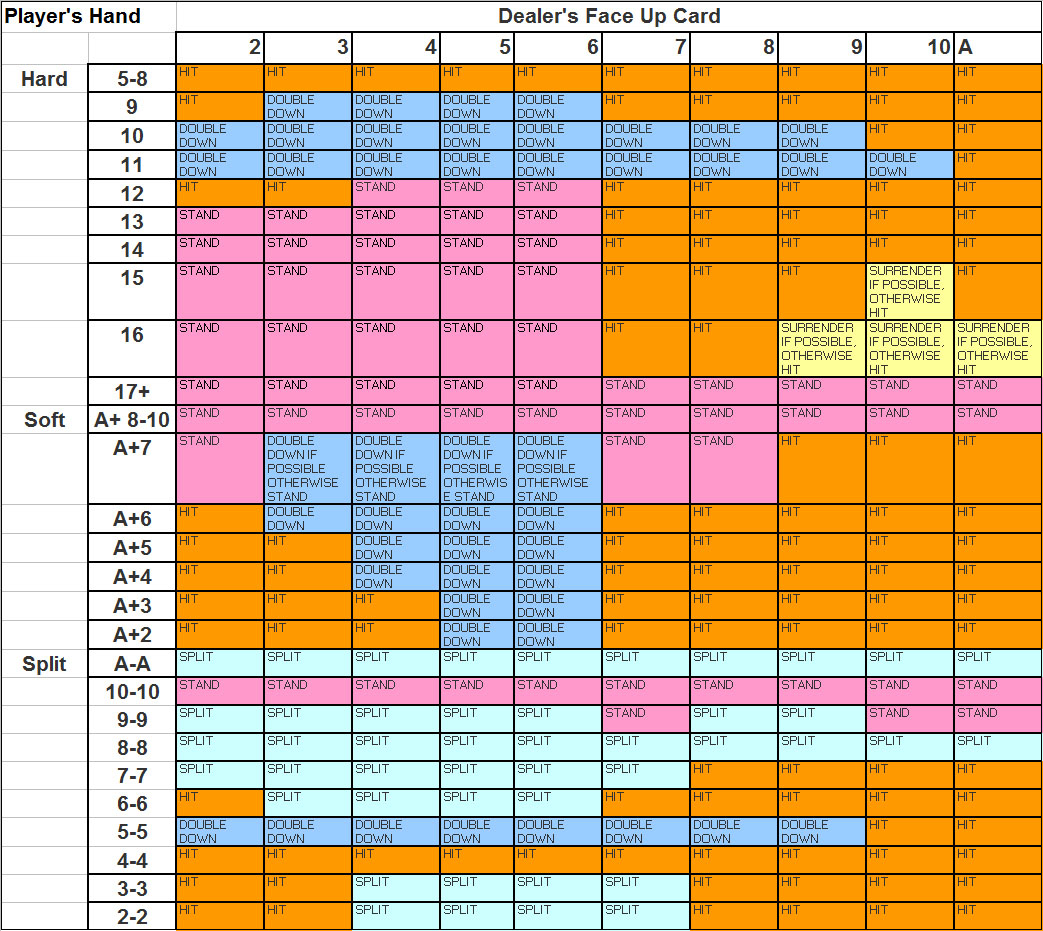 Some Popular Blackjack Versions
As with video poker, online roulette and other table games, there are also variants aside from standard blackjack. While some may appeal to you more than others, do keep in mind that they may not have the same house edge. It all comes to what you look for in a game and what you can live without.  For example, not all versions allow you to buy insurance or surrender,
Pontoon
Pontoon is a card game where each player wagers that their hand is better than the dealer's hand. Pontoon allows players to double their stake every time they hit. Blackjack or pontoon consists of two cards that total 21, but the next strongest hand is a five-card trick. These are 5 cards that combine together but do not exceed 21. Five-card tricks have the same value regardless of their total. If a player and dealer both have one, then it's a tie, which means the dealer wins.
Blackjack Surrender
While this variant is similar to the standard version, this one allows you the right to surrender. What this means is that you can give up your hand, if you think it's weak relative to the dealer's, and collect half your bet back.
Blackjack Multi-Hand
Blackjack MH is often a version of standard blackjack. The difference is that you can play with more than one hand at the same time.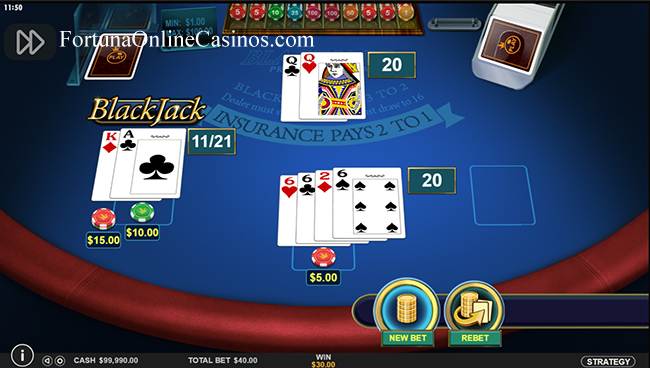 Double Exposure Blackjack
In Double Exposure Blackjack, unlike standard blackjack, you can see both of the dealer's cards instead of just one. It can give you an advantage which can lead to more wins over time. However, the rules are slightly different so that blackjack payouts are 1:1, rather than 3:2 in standard blackjack. Outside of a blackjack tie, ties in Double Exposure go to the dealer.
Live Blackjack
Live dealer blackjack is the best way to experience glamorous live casino blackjack without stepping foot in one. Using a real blackjack table and croupier, it's streamed in clear, real-time to your desktop, mobile or tablet. You can often chat with the dealer and get an immediate reply back.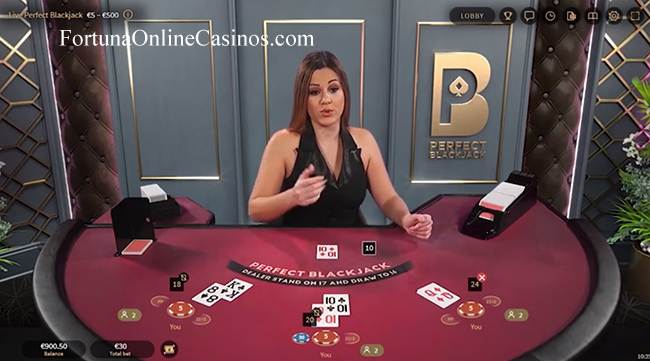 Enjoy it from your local coffee shop, but just be sure that you have a stable WIFI connection. You can drain your data plan or pay as go balance quickly otherwise.
You can find versions with side bet features, standard and VIP blackjack tables. For example, Evolution Gaming ↱ has Speed Blackjack, Infinite Blackjack, Free Bet Blackjack and Power Blackjack.
Netent ↱ has several version of their own including Live Blitz Jackpot, Live Blitz Blackjack – Low Roller, Live Blitz Blackjack – High Roller and Live Perfect Blackjack.
Netent and Evolution Gaming happen to be two of the largest live dealer providers in the industry. Still, there are many other developers: Relax Gaming, Playtech, Yggdrasil, Felt, iSoftbet, Microgaming, 1x2 Gaming, NYX, Play'n GO, NextGen, Core Gaming, Pragmatic Play, Betsoft, Oryx, Realistic Games, Red7 and Red Tiger Gaming.
High Roller and VIP Blackjack
In high roller Blackjack and VIP blackjack, the main difference between these games and others is the higher minimum and maximum wagering requirements.
FAQ
Unlike video slots which is a game of pure chance, blackjack is a strategy game that typically comes with a lower house edge. You can lower the house edge further if you use a probability-based strategy. While you can never completely eliminate the house edge, it may be possible to win over the long-run if you eliminate subjective decision-making from your game.
The answer is yes, and no. While learning the basics of blackjack is easy enough, knowing when to use the right strategy takes practice. Fortunately, we've included a table above that indicates the action to take based on your two cards and the dealer's face-up card.
You can play online casino blackjack for free if you want to try it first, but keep in mind that you can't get a casino bonus or keep your winnings in free play blackjack mode. In live blackjack, you usually cannot play for free. However, some operators may allow you to view a live dealer game as a spectator.
Generally, blackjack has amongst the lowest house edge of all casino games. With an objective strategy, you can cut the house edge down further, potentially to as low as 0.1%. Different variants can have slightly different rules which can influence the house edge.
Yes, you can use a strategy to cut the house edge down close to as little as 0.1% in some variants. It's important to realize that it's impossible to eliminate the house edge since the dealer has an advantage. Since you go first, there's a chance you go bust before he/she even takes action. Also, some rules give the house an extra edge.
Live blackjack is an online game which allows you to play against a live dealer, on a real table in a production studio with other players. Games are streamed in real-time to your desktop, tablet or mobile. It is the most authentic way of playing at a casino without physically being there.
Yes, you can play blackjack from an Android or iOS device, including tablet or mobile. Usually, these are instant play casinos where you need only to open a web browser. Just make sure you have a stable WIFI connection as you don't want the game to drop at a crucial time.
It is not unusual for new players to an online or live casino to qualify for a new player bonus. Ultimately, it depends on your country of residence and the operator's policy. You should check the terms and conditions to be sure. Regular players can sometimes find promotions also.
Live blackjack recreates the atmosphere of a land-based casino, so you don't even need to leave your home. This convenience saves you an expensive road trip, accommodations, time and hassle.
Instead, you can stream the game to your living room in real-time using crystal clear sound and video. You can start a chat with a real dealer, and see amusing player comments as you play.
There are many variants of blackjack. Some of the more common ones include Pontoon, Blackjack Multi Hand (MH), Blackjack Surrender, Double Surrender Blackjack and Live Blackjack. Not every version has the same house edge and rules, so you need to be conscious of that when choosing your favourite.