Online Baccarat Rules and Tips
The card game of Baccarat is one of the most popular of all online casino table games. It has evolved onto the desktop (Windows), and tablet/smartphone (iOS, Android) from its physical origins as a card game played involving two sides: the player and the banker.
A dispute exists as to when Baccarat ('baccara' in French) was created. One side argues that the game began in the 19th century, while others say that it originated during the Franco-Italian War. You might know it as the Great Wars of Italy or the Habsburg–Valois Wars.
Regardless, Baccarat has enjoyed popularity among the French aristocracy from the 19th century. It was not uncommon for French inhabitants to play an early, three-player version of the game, before the modern and extremely popular house-banked iteration developed in the 1940s Havana, Cuba called Punto Banco. In this variant of Baccarat, the croupier follows the rules of fixed drawings ('tableau'). The game Baccarat is played with between six and eight card decks.
We've put together our general online casino games guide and tips for Baccarat, which we hope will help you see how easy the game is. We include Baccarat rules and strategies and answer some of the most frequently asked questions (FAQs).
Best online casinos with Baccarat games in 2023
This table gives you an overview of some of the best online casinos with online baccarat games in their selection. You can find a detailed review about each casino and find out what payments they accept, as well as bonuses, terms and more.
♣ fast withdrawal processing
♣ very good bonus wagering terms
♣ Games: 6000 ♣ USD accepted: ✓ ♣ English Website: ✓
♣ Slots, Live Casino, Jackpot, Table Games
Visit
Review
up to €/$2,500 bonus over 4 deposits + 250 Free Spins

▼ More Details ▼


1st deposit: 100% up to €/$500 + 100 free spins
2nd deposit: 50% up to €/$500 + 50 free spins (Code WELCOME2)
3rd deposit: 25% up to €/$1000 (Code WELCOME3)
4th deposit: 25% up to €/$500 + 100 free spins (Code WELCOME4)


18+. New customers. Min deposit €/$10, 30x bonus wagering. Max bet €/$10, no max win. T&Cs apply.

18+ | Website operator T&Cs apply | Play responsibly.

♣ Withdrawals processed within an hour
♣ no withdrawal limits
♣ many currencies accepted
♣ Games: 4000 ♣ USD accepted: ✓ ♣ English Website: ✓
♣ Casino, Live Casino
Visit
Review
20 Signup spins for select countries, €500 (5 BTC) welcome package over 4 deposits + 180 Free Spins

▼ More Details ▼




1st deposit: 100% up to €100 (1 BTC) + 180 Free Spins, 2nd deposit: 50% up to €100 (1 BTC), 3rd deposit: 50% up to €200 (2 BTC), 4th deposit: 100% up to €100 (1 BTC)

18+ | Website operator T&Cs apply | Play responsibly.

♣ cryptocasino with provably fair games
♣ many bonuses and promotions
♣ Games: 4500 ♣ USD accepted: ✗ ♣ English Website: ✓
♣ Slots, Live Casino, Table Games, Lottery, Craps, Jackpots
Visit
Up to 2 BTC / €1,200 / C$1,800 over 3 deposits + 200 Extra Spins

▼ More Details ▼


1st deposit: 100% up to 1 BTC / €200 / C$600 + 200 Free Spins
2nd deposit: 50% up to 0.5 BTC, €500, C$600
3rd deposit: 75% up to 0.5 BTC, €500, C$600

18+ | Website operator T&Cs apply | Play responsibly.
*Bonuses are tied to T&Cs. Bonuses can change any time.
About Punto Banco Baccarat
Punto Banco Baccarat is likely the most common form of Baccarat that you'll find in many countries, including Canada, the United Kingdom, Sweden, Finland and Macau. It is so common that this variant is often implied and so the 'Punto Banco' is often left out. In Punto Banco. The 'punto' refers to the player, and the 'banco' refers to the bank. You decide which hand you are putting money on.
Playing Baccarat [Punto Banco]
We begin with the Baccarat table itself, marked into three possible betting outcomes. One outcome favours the bank, one for the player and one for a tie (also called 'push'). Don't be misled by these. You are not the player, and the bank does not refer to the house. Before the croupier (dealer) has dealt out the cards, you must predict the outcome by putting your money down.
The croupier (dealer) then deals two cards to the player and two to the bank. The value of cards ranging from 1-9 is its face value. Any face cards (i.e. King/Queen/Jack) and the number 10 card have no value (i.e. 0). When the total of cards is 10 or over, then 10 is deducted from the total. We've listed some examples of a hand next.
| First Card | Second Card |
| --- | --- |
| 10 | King |
| 5 | Jack |
| 8 | 7 |
| 1 | 10 |
| 3 | 6 |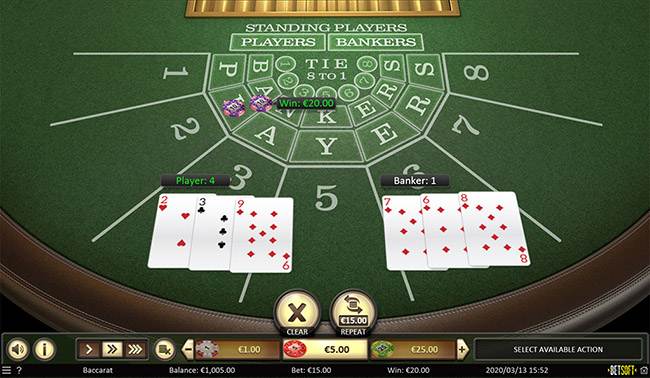 The objective of Baccarat is to have a card total that comes closest to 9 compared to the other hand. A player's or banker's hand that holds an 8 or 9 is called a 'natural.' When two hands are the same, then a tie results. We've listed some examples of two hands next.
Hand 1
Hand 2
Winner
1st Card
2nd Card
Total
1st Card
2nd Card
Total
K
9
9
5
3
8
Hand 1
Q
1
1
10
J
0
Hand 1
5
7
2
1
1
2
Tie
9
8
7
9
9
8
Hand 2
If your prediction of the player winning was correct, then your payout is 1:1. Likewise, if your prediction of the banker winning is right, you earn 1:0.95. The reason that is not 1:1 like a player win is that it includes a 5% commission to the house. These wins are called even money.

A tie can have a payout of 8:1 or 9:1 your original bet.
Where the sum of the player's two cards is less than six, a third card may be dealt to a player except where the bank's total is 8 or 9. The player will otherwise stand pat. The sum of the 3 cards is then compared to the banker's 2 cards.
When the player receives a third card, the bank may also receive a third card. Whether it does or not depends on what the bank is holding and what the player is holding.
We've summarised the scenario under which the bank will draw a third card.
| Player's 3rd card value | Bank's total for which a 3rd card is drawn |
| --- | --- |
| 2 or 3 | 0 to 4 |
| 4 or 5 | 0 to 5 |
| 6 or 7 | 0 to 6 |
| 8 | 0 to 2 |
| 9, 10, K, Q, J or Ace | 0 to 3 |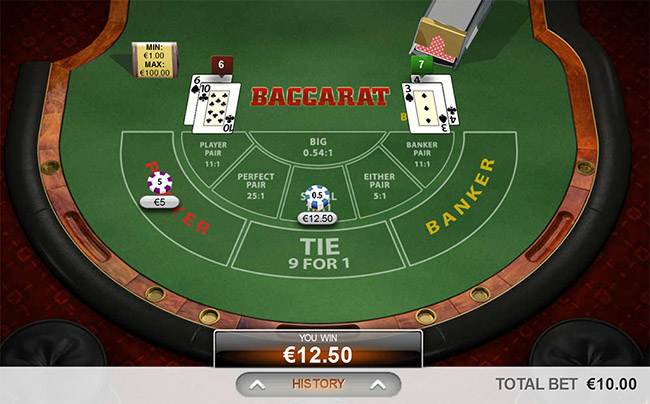 Punto Banco House Edge
The house edge in Punto Banco varies depending on whether you're betting on the banco, the punto or ties (8:1/9:1). We've summarised these in the following table:
| Winner | House Edge |
| --- | --- |
| Punto win | 1.24% |
| Banco win | 1.06% |
| A tie (8:1 payout) | 14.4% |
| A tie (9:1 payout) | 4.85% |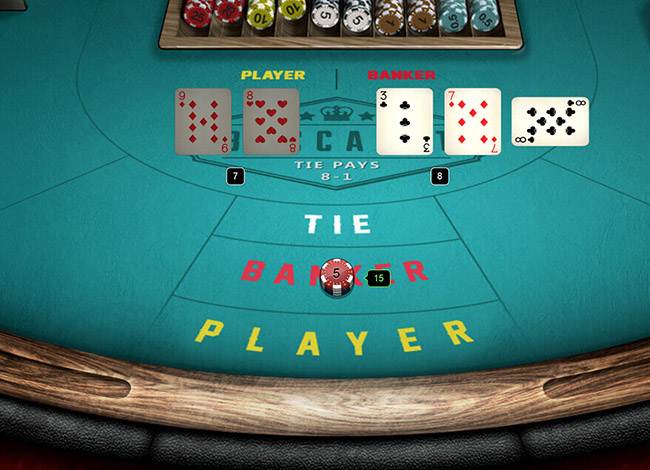 Baccarat Variants
There are several variants of Baccarat which we'll briefly run through next.
EZ Baccarat
EZ Baccarat is a relatively new variant from 2004 in which a win by the banker on a total hand of 7 leads to a push on banker bets. This variant has two options called Dragon 7 and Panda 8. The first option is a banker win with three cards that total 7, which pays 40:1. The latter is a win by the player with three cards totalling 8, which pays 25:1.
Mini-Baccarat
Mini-Baccarat is a smaller version of the original, including a smaller table and smaller minimum/maximum bet sizes. A Mini Punto involves one croupier who deals cards from a standard shoe.
Super 6 or Punto 2000
The Baccarat variant goes under the name of Super 6 or Punto 2000. Here, winning banker bets will payout 1:1 (no 5% commission). However, only 50% of the bet is paid out when the banker wins with 6. This will effectively increase the house edge to 1.46% from 1.06%. It's faster than Punto Banco since there is no 5% commission to take off on banker wins outside of those with a number 6.
Chemin de fer
Most popular in France, Chemin de fer, meaning railway, is a six-deck variant involving a banker (played by a player) and punters (players). Each round starts with the banker who places the wagers. One player can decide whether to match against the entire bank, called 'go bank.' Players that don't 'go bank' can make their own wager. Observers on the side can choose to wager on the bank if its bet is higher than the players or vice versa.
The bank then deals two cards to itself and two to remaining players. The player with the biggest wager, or first in order of play in the event of a tie, represents the group.
Both sides must then announce whether they are holding an 8 or 9. If not, the player has the option of taking a third card that is dealt facing upwards, followed by the banker who must decide the same thing. The hands are then revealed and compared. If the player has a higher hand then all players that wagered collect 2x their total bet. If the banker wins then, the players lose their wager. Wagers remain in place in the event of a tie for the next round.
Macao
Macao began in Europe in the late 1700s and uses two decks of cards. Punters place down bets against the banker. Each player is dealt one card to each player in a clockwise direction. The goal of the punters is to defeat the banker's card value. The hand with the least number of cards wins in the event of a tie. The bank wins in the scenario of both a tie in amount and number of cards. Punters with a natural 9 receive 3x their bet assuming the banker does not have a natural 9 also. Winning with a natural 8 awards 2x, and with a 7 receive the value of their bet back.
Players can also request more cards, rejecting 10s or face cards. You can win your bet back by beating the banker with two cards.
Online Baccarat: Why play?
As you can see, the rules of Baccarat online are relatively straight forward, so it won't take you long to be up and running. Given Baccarat's lack of complexity, it stands to reason that there would not be much in the way of strategies to apply. You'll find many versions of online Baccarat by many leading developers including Scientific Gaming, Netent, iSoftBet, IGT, Red Tiger Gaming, RTG and more.
Baccarat: Why Play Live?
In addition to mobile online Baccarat, there is also Live Baccarat from developers such as Evolution Gaming and Netent. There are a few reasons to play live casino.
First, not all players have access to a real-life, land-based casino when they are in the mood for playing a little Baccarat. This is because Live Baccarat is streamed in real-time, using state of the art video technology, from the developer's studio. This means that you can interact with a real-life dealer and maybe even other players. The cameras allow you to see everything that's happening, which puts the Baccarat table in your living room.
Baccarat FAQ
No, Baccarat is one of the simplest table games to learn and play. In fact, if you have ever played Blackjack, you'll recognize the similarity in your objective. Because the game is not complex, there is not much in the way of strategy to remember, making it more a game of chance.
The house edge for even money wins are approximately 1.24% or 1.6% for banker or player wins respectively. The house edge increases to about 4.85% or 14.4% on 8:1 or 9:1 ties, respectively.
Statistically speaking, putting money down on the banker gives you the best chance of winning and generally considered the relatively 'safer' bet, but there are no guarantees. This is why the house charges a 5% commission. With a payout ratio of 1:0.95, it is not difficult to see why it may have more appeal to high rollers who can afford to place (and sometimes lose) more significant amounts.
Many online casinos offer table casino games, including Baccarat. To help you get started, we have put together a list of licensed and regulated online casinos that carry variants of Baccarat.
The modern versions of Baccarat are optimised for play on mobile, tablet and desktop. You can play this classic game on Android, Windows or iOS devices. Ensure you have a reliable wi-fi connection as playing using a mobile data plan will drain your plan quickly.
Some mobile online casinos offer a live casino bonus and online casino bonus, which may include Baccarat games. You should read the T&C to see if it qualifies.
Live Baccarat is streamed in real-time from land-based studios or casinos and allows you to experience what it's like to be in a real casino without ever being inside of one. You can also interact with the croupier and other players. Two of the biggest providers are Evolution Gaming and Netent.
The most common form of the game is called Punto Banco Baccarat which is most widely available in Canada, the United States, the United Kingdom (UK), Sweden, Finland and Australia.
Besides the most popular Punto Banco, there are Mini-baccarat, Punto 2000/Super 6, EZ Baccarat, Chemin de fer, Macao and Baccarat Banque.
Baccarat players can get an edge against the casino when they combine card counting with edge sorting. Edge sorting uses flaws on the back of cards to identify them. This technique is not permitted by casinos and has resulted in past big wins being denied or reversed.